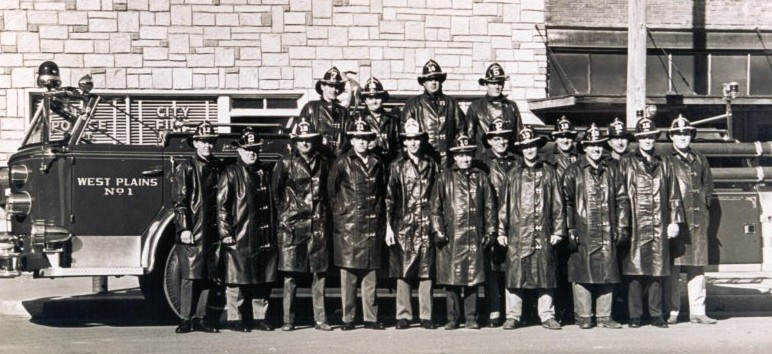 September 13, 1928, is the first written record shown for the West Plains Fire Department. Records show the first officers were Gus Jolliff, chief; Jake Palmer, assistant fire chief; Bert Woody, secretary; Chris Smith, treasurer; and Joe Martin, captain. The first fire station was at 401 Washington Ave.
The fire department had 2 volunteer firefighters. They were Jake Palmer, Amos Privett, Elso Seiberling, Joe Paterno, Arthur Houck, Cliff Mustion, Charley Smith, Walter Doke, John Palmer, Bert Woody, Floyd Amhart, Jim Hoots, Frank McClellen and J.A. Bridges.
The department purchased a new 1928 American La France from Foarnrite Industries of Kansas City, Mo. The truck was a 500-gallon rotary pumper with 80-gallon booster tank.
Gus Jolliff was the only full-time fireman at this time. Records show that Jolliff would drive the fire truck during the day and on Saturday and Sunday nights. Bert Woody was appointed driver of the apparatus for five nights during the week. Floyd Amhart was appointed the mechanic and as the relief driver. Firemen were paid $2 per fire call.
In 1941, Cliff Mustion took over as fire chief for the West Plains Fire Department. Robert Young was the assistant fire chief. Records show the fire department had 10 volunteer firefighters. C. W. Davidson, Robert Young, Jim Hoots, Jr. Armstrong, C. Mustion, Arthur Houck, Walter Doke, Alfred Putnam, Ray Castle and Glen Smith.
In 1947, Glen Smith became the fire chief. Ed Wilson was the assistant fire chief, with Henry Vandertook as the engineer and mechanic. Volunteer firefighters at the time were W.G. Brewer, Frank Woolman, Walter Doke, Ray Armstrong, Jess Wilson, John Edgeller, Ray Long, R. McClintock and E. Deidiker. The volunteers were paid $2 per fire call and $1 for attending fire drills.
In 1948, the City of West Plains purchased a new fire truck. It was a Dodge with a 500-gallon per minute pump made by Banton-American. The new truck was equipped with 1,200 feet of 2-1/2 inch hose, two booster reels, and 150 feet of 3/4 inch hose with a 2-1/2 inch nozzle. It also had a foam nozzle, one foam fire extinguisher, one hand axe, two hand lanterns, one 14-foot roof ladder, one 24-foot extension ladder, one 2-1/2 x one 1-1/2 Siamese, one crowbar, one Indian-back pump, one five gallon can of foam and one adapter for coupling hand suction hose on the hydrant.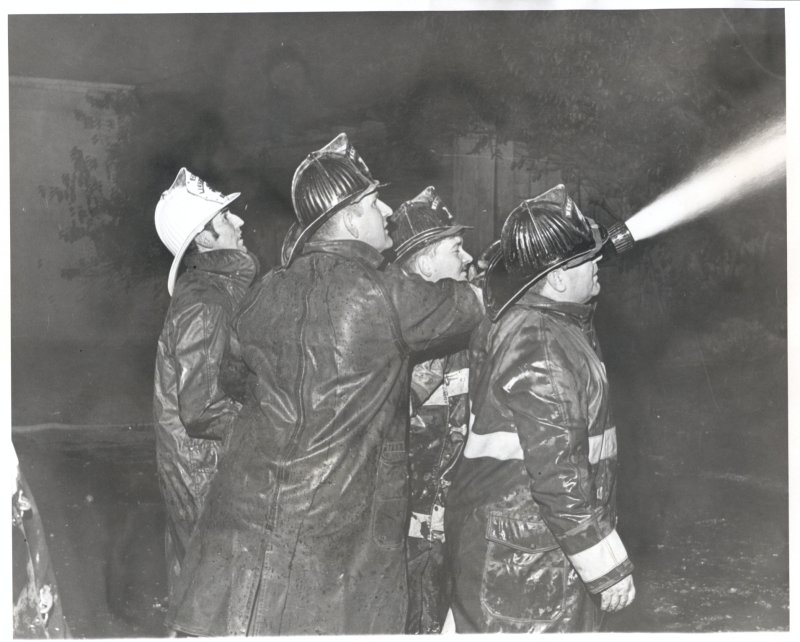 In July 1953, Alfred Hoglen became the fire chief for the city of West Plains. The volunteers consisted of Walter Doke, Jess Wilson, Leo Philpott, Henry Vandertook, Reaffer McClintock, Curley Long, W.C. Brewer, Elmer Deidiker, Roy Armstrong, Frank Woolman, Johnnie Edgeller and L. Armstrong.
In 1954, the city of West Plains purchased a new 1954 Ford Pumper Truck. It was purchased from Central Fire Truck Inc. out of St. Louis. The pumper had a 750 gallon per minute pump with a 500-gallon tank. The engine was 351 horse power with a five-speed transmission. It came equipped with 1,250 feet of 2-1/2 inch hose, 2-1/2 pre connect, four 20-pound fire extinguishers, one 35-foot ladder, one 14-foot roof ladder, it carried two 15-minute scout air packs (sling), four hand lanterns, two axes and flue chains. This truck is still in service today with the Koshkonong Fire Department.
In 1961, the City of West Plains purchased a new 1961 American La France from L.M. Shockley out of Springfield. The truck had a 750 gallon per minute American La France pump with a 500-gallon tank. The truck came equipped with in-line six-cylinder continental engine with a five-speed manual transmission. The engine held 24 quarts of oil. It had 1,250 feet of 2-1/2 inch hose, two five-inch hand suction, four 20-pounds safety first fire extinguishers, two 200-foot booster reels, one 45-foot ladder, one 14-foot roof ladder and two SCBA. The truck was delivered by train to Springfield, and then driven to West Plains.
In 1963, Hubert Redburn took over as the fire chief for the city of West Plains. He started working for the city as a police and fire dispatcher. Chief Redburn has had several assistant fire chiefs over the years, which include Gordon Andrews, Leon Taylor and the present fire chief, Tim Bean.
This is a list of the volunteer firemen who were working when Chief Hubert Redburn took over. Don Lair, George Collins, Bill Piper, James Paschall, Gerald Cawvey, James Manley, Clifford Franks, Burvel Barton, Harold Riley, Jackie D. Garrett, Joe Bean, Ace Baker, Remal Jones, Charles Smith, Irvon Strong, Gerald Bruner, Clarance Brandt, Leland Stephens, Thelbert Franks and Henry Vandertook. Firefighters were paid $2 per fire call and $2 for fire drills.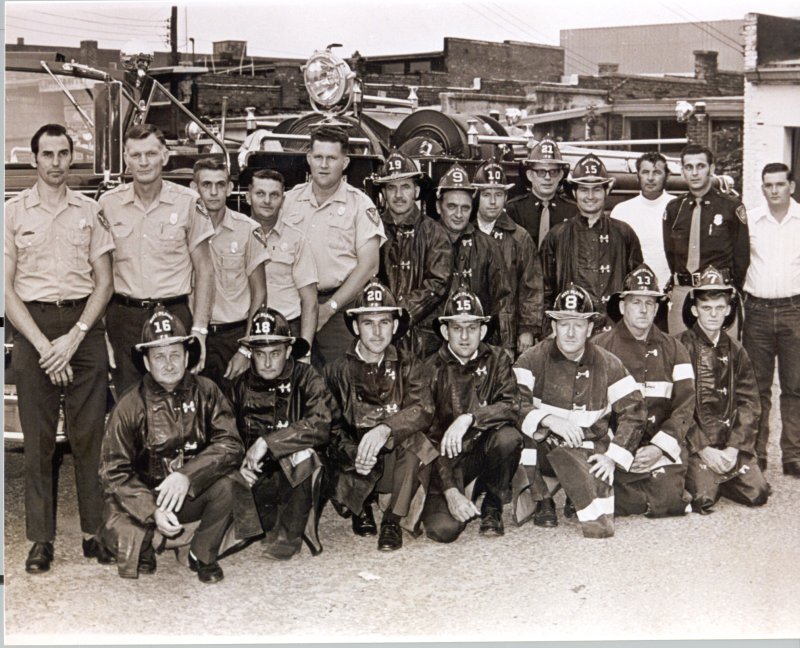 Back in the 1960s the firemen didn't have any pagers or radios. The town was divided into sections, examples A-B-C-D. The alarm system was located at the fire station. They were notified of a fire call in the following manner. When the person called the fire department to report a fire, the firefighter would find the location of the fire. He then would take a disk and place it on the alarm box. The disk had notches on it. As it rotated, the alarm arm would hit the notches blowing the whistle.
In the 1960s and early 1970s, the fire department still had not introduced radios in the fire trucks. They updated the alarm system by having the telephone operator at the telephone company call each firefighter telling them the location of the fire.
The fire department in the late 1970s and early 1980s had a system where all the firefighter's phones were hooked into the fire department's phone. When the person called to report a fire it would ring each firefighter's house. You would hear the conversation with the person on the phone and then respond to the location of the fire. Chief Tim Bean says he remembers answering the phone when he was just a child at his house. He remembers them doing a 5 p.m. test each day. If you were talking on the phone it would signal you on your conversation.
In 1973, the city of West Plains purchased a new pumper. The pumper is a 1973 Ford C-950 tilt cab. The engine is a 534-cubic inch, 266 HP V-8 with a five-speed standard transmission. The truck has a 1,000 gallon per minute Barton-American pump with a 500 gallon booster tank. The truck is equipped with two 200-foot booster reels, two I-I/2 inch per connects, one deluge deck gun, four SCBA mounted, six 20- pound fire extinguishers, two 2-1/2 nozzles, three water curtains, one 50-foot ladder, one 14-foot roof ladder, two foldout ladders. It was purchased for $45,000.
In the 1980s the firefighters were issued pagers that they wear on their belts. When there is a fire, the dispatcher tones the pager and gives out the location of the fire.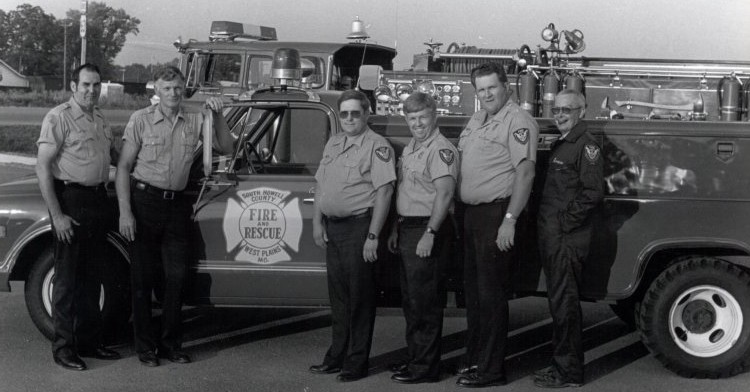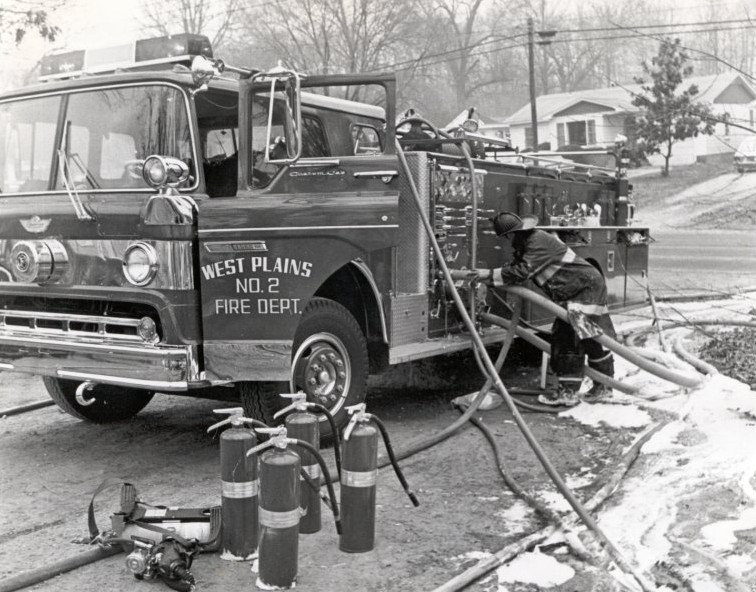 In 1980s the residents of West Plains and Howell County had several different fundraisers and purchased a 1968 GMC one-ton truck with a 327 engine and automatic transmission. Southwest Truck Body Co. built a rescue bed for the truck. This made up a rescue truck for the city and county.
In 1983, a new fire and police facility was built at 302 E. Broadway, where it is stationed at the present time. Due to the growth of the city a second fire station was built in 1993 north of town next to City Hall.
In 1987, the city of West Plains purchased a 1987 Ford tilt cab pumper with a 250-HP Cat motor with an Allison automatic transmission. The pump was a 1,000 gpm Darley with a 750-gallon booster tank. Some of the equipment includes four SCBA quick release, six 20- pound fire extinguishers, an electric generator, one smoke ejector, foam eductor and nozzle, two I-I/2″ pre connects with a 1,250 foot hose bed. This was the Number One truck until 1998. It now serves as a reserve engine, primarily responding to rural callsThe city purchased this truck for $96,000.

The next truck to be purchased by the City of West Plains was a 1991 Sutphen. This truck is a 90-foot Aerial pumper. It is equipped with a 460 Detroit Diesel engine with an Allison automatic transmission. The truck has a Hale 1,500-gpm pump with a 250-gallon tank. It came equipped with two 1-1/2-inch Cross lays, built-in generator, other loose equipment. The cab is set up with two jump seats. The truck was custom built by Sutphen Corporation out of Columbus, Ohio. The city paid $450,000 for this truck.
In 1997, the city of West Plains purchased a 1987 Ford F-250 pickup to be used for a brush truck. This truck replaced a 1967 4×4 Kaiser one-ton 3/4 Troop Carrier. The Ford has a 460 engine with a five-speed transmission. It is equipped with a 350-gallon skid unit with an 18 hp Briggs-Stratton pump and has a 200-foot hose reel with 200-foot cross lay. The cost of this was $15,000.
1998 The city of West Plains purchased a 1997 four-door Freightliner. It was purchased from Firemaster of Springfield, MO. It has a 1500 gpm top mount Darley Pump with an 850-gallon booster tank. It has a 400-cubic inch Cummins engine with an Allison six-speed automatic transmission. It is equipped with six new Scott SCBA, foam nozzle and eductor, Deluge gun, two axes, two halligan tools, 5,000- watt Honda generator, insta-chains, four salvage covers, six rechargeable hand lanterns, 200 foot booster reel, one 16-inch ram fan. The truck is equipped with two I-I/2 inch cross lays, one 2-1/2-inch cross lay and one 2-1/2 inch rear pre-connect. It has 1,250 feet of 2-1/ 2 inch hose. The cost of this truck was $202,470.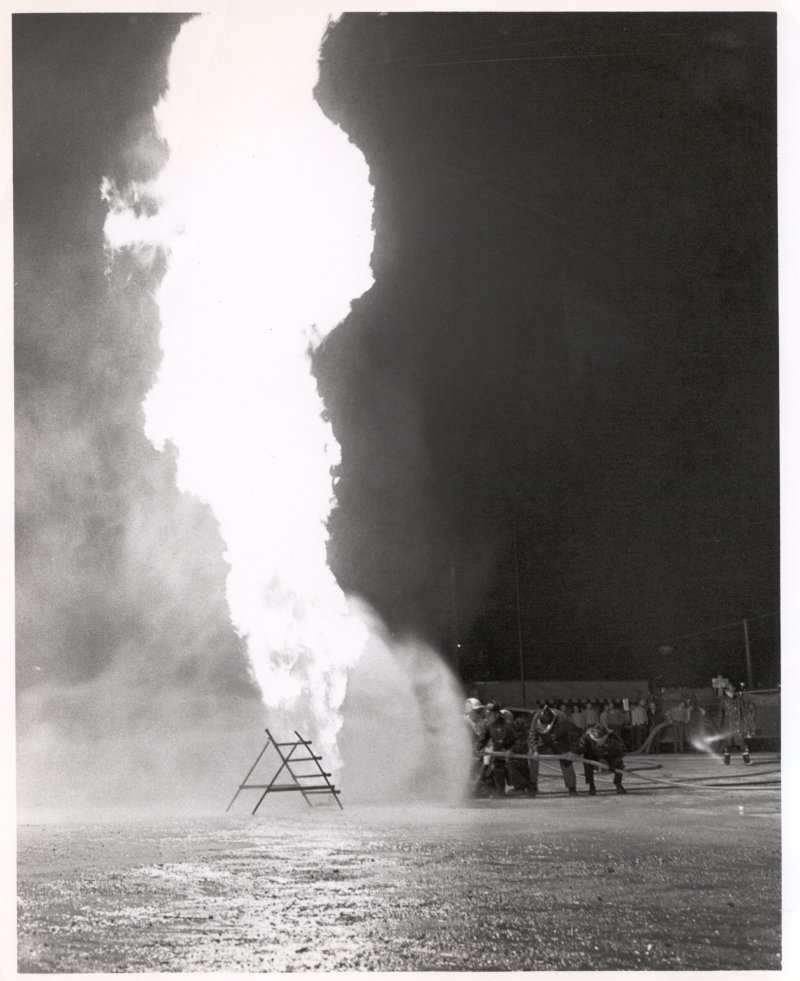 At this time, the West Plains Fire Department employed seven full-time firefighters, 22 volunteers and 14 public safety officers. The department had a total of seven trucks including four fire apparatus (pumpers and aerials), rescue and brush trucks. We protected over 11.8 square miles with an estimated population of 10,700 people. The city has doubled in growth in the last 10 years. We protect around eight large factories.
In 1996, the West Plains Fire Department ran 170 paged calls with 129 non-paged calls. In 1997 the West Plains Fire Department ran 175 paged calls with 120 non-paged calls.
1999 Several positive things happened in the fire department. In June, we hired 3 more full time firefighters. Kurt Wilbanks, Roy Sims, and Robbie Smith bringing the total of full time firefighters to 10. In July, we opened Station #2 located at 1910 Holiday Lane next to city hall. With the added personnel we instituted 24/72 shifts for the firefighters with one man per station. They work from 7 a.m. to 7 p.m. then have three days off.
We attended our first FFAM convention in Jefferson City, and competed the first time as a team. One trophy was won.
2000 As everyone else, we didn't know what to expect with the New Year and new millennium beginning. Nothing happened and so the year began. In April we traveled to Hannibal, Mo with a ten-man competition team and were quite successful. The 5 men bucket brigade team set a new state record. Team members were Tim Bean, Chris Thompson, Wayne Cormier, and James Clarke. The winning time was 1:18.
Chuck Barks successfully completed a 40-hour Fire Inspection class becoming a State Certified Fire Inspector. Chuck will begin a new fire inspection program throughout the city. This will enhance fire safety and other safety issues within the city.
Lonnie Sterner retired as a full time firefighter and was replaced by Wayne Cormier. Wayne had been a volunteer firefighter with Howell Rural Fire Department before becoming a volunteer with West Plains.
2001 In April, firefighters attend the 47th FFAM convention held in Arnold, Mo. West Plains men's and women's teams won several trophies.
September 1 Fire Chief Hubert Redburn retired after 42 years of service. Thirty-nine of those years were as Fire Chief. Chief Redburn stated at his retirement party, which was held at the Civic Center and attended by over 100 people he had watched the city grow to over 10,000 people, and that fire fighting had changed over the years. It takes a special kind of person to take all the special training, long nights with no sleep, giving up family & personnel time whenever the call comes in. Chief Redburn supervised over 150 firefighters over his 39 years and the best part about that was, not one of them ever was seriously injured.
A new Fire Chief was appointed to fill the vacancy created by Chief Redburn's retirement. Tim Bean was appointed to that position. Tim has been Assistant Fire Chief for the last 5 years. Bean grew up in West Plains and has been with the Fire & Police department since1984. He was a Police Officer for the city prior to accepting the Assistant Chiefs position in 1996. Tim has obtained several specialized certifications through M/U & Division of Fire Safety. He is Firefighter I&II, Instructor I&II, Hazardous Materials Awareness & Operations, Incident Management and several other specialized certifications. He is a commissioned Police Officer with the West Plains Police & Howell County Sheriffs departments. Tim is 9 hours away from obtaining his Associate Degree from SMSU­ West Plains in Criminal Law. Chief Bean is excited about his promotion and looks forward to continuing what has already been established and build from that foundation.
On November 14 Roy Sims was promoted from firefighter to Assistant Fire Chief. Roy started with the department in 1999. He started his career with the Mammoth Springs fire department in 1980 then moved to the Thayer, Mo. Fire Department where he became a Captain then Assistant Chief. Roy has completed several hundred hours of specialized training as Assistant Director for statewide mutual aid Region G as well as District 9 Assistant director for FFAM.
Corbin Thompson was hired in December filling the position that Roy's promotion created. Corbin has been with the department as a volunteer for 5 years.
We took possession of a used 1991 Dash Pierce medium rescue from Central County. It replaced a 1968 Chevrolet 1 ton. The new rescue was a much-needed piece of equipment. It has an 8- bottle cascade system, 25′ telescoping light tower, slide-out trays for hand tools, and large bins for cribbing, medical supplies, and airbag equipment.
2002 January 7 was a sad day around the firehouse. We laid to rest Jackie D. "Small Business Man" Garrett. Jackie had been a volunteer with the city fire department of over 39 years. He supported the fire department in many different ways. He owned and operated Garrett's Towing and Lube Service since 1962. He was a MASTER (Missouri Association of State Trooper Emergency Relief Society). Member of Kiwanis, sponsor of Ducks Unlimited, Elks Lodge, Knights of Columbus, and an Associate member of the Am Vets. Thanks Jackie for everything you did for the community, you will be missed. Jackie is survived by his wife Irene Garrett one daughter Denise Koon and two grandchildren Garrett Belcher and Makayla Koon.
Firefighters attended the 48th Annual F.F. A.M. convention, which was held in Washington, Mo. Firefighters and the auxiliary won several trophies, with auxiliary winning first place overall.
May 8, firefighters assisted in a train derailment south of town after high waters washed the tracks out. Over 40 cars derailed along with 3 engines, which spilled several hundred gallons of diesel and motor oil causing a hazardous materials situation. Firefighters worked the scene for over 10 hours.
The local Howell County health department was awarded a grant that put A.E.D's. into each of the fire departments in Howell County.
We started a youth cadet program, beginning with 3 cadets. Firefighters Smith & Cormier head the program. This program trains the young fire cadets in firefighting, fire behavior and fire ground activities among other duties. They certainly are an asset to the fire department.
2003 This year started with 6 different structure fires. The men did a great job on each one of them. Several thousands of dollars were saved along with no injuries.
The department begins a fundraiser to buy a Thermal Imaging Camera (TIC). This camera aids in locating the seat of the fire, hot spots, someone lost in the woods and assisting with Hazardous Materials incidents. It also allows the firefighters to enter into smoky environments enhancing rescue and firefighting capabilities. With numerous donations from across the community we were able to raise over $12,000 to buy the TIC and accessories. The camera is the first of its kind ever to be in our county. It will be available for use anywhere in the region G area.
We attended the 49th annual F.F.A.M. Convention in Booneville, Mo. The auxiliary won first and set a state record in the bucket brigade.
The department began responding to medical first responder calls. Firefighters started a new program in building wheelchair accessible ramps for handicap people.
Homeland Security money become available to our region and we were able to start the first ever Hazardous Materials Forward Response Team. This team covers region G that consist of 9 counties: Howell, Oregon, Reynolds, Shannon, Wright, Texas, Ozark, and Douglas.
The team has received over $200,000, which has allowed us to purchase much needed equipment for WMD & Haz-Mat response. It is the first time that this type of equipment has been available in this area. Twenty fire, police, and EMS personnel took a 40-hour Haz-Mat technician course in August, which allows the team to work in any type of hazardous material situation.
Bill Freeman retired after 34 years working for the city & fire department. Bill was a good firefighter and was liked by all that he worked with. Wishing you the best Bill.
Chris Thompson was hired to replace Bill. Chris has been with the fire department for 6 years as a volunteer. He is FF 1&2, Haz-Mat awareness, operation, and technician certified among several other special certifications.
2004 February brought another retirement. Jim Looney retired from the fire department after 24 years. Jim worked as a public safety officer. He will work part-time as a bailiff for the city court system. Happy trails to you Jim.
Jay Cooper was hired to replace Jim. Jay has been with the fire department for 6 years as a volunteer. He is FF 1&2, Haz-Mat awareness, operation, and technician certified among other special certifications.
March 3 was a very sad day for us all. We lost the best fire chief there ever was. Chief Hubert Redburn died at the age of 67. Chief Redburn began with the city in 1959 and become fire chief in 1962 and worked in that position until his retirement in 2001. His wife Donna, one daughter Jennifer and husband Dan Strange and one granddaughter Ashley Strange survive Chief Redburn. We all will miss him, God bless you Chief.
In March we hosted the first ever Regional Fire School in this area. Three classes were offered with over 150 firefighters registered and 20 fire departments represented. This school will be held again next year.
Well now its April and time has brought us to convention time. We are honored in being allowed to host this special convention for F.F.A.M. We hope your stay will be enjoyable and memorable. Good luck and be well.